Sizing Guide


---
An individual size chart is provided in the listing photos for each listed item.
Please measure your dog for an accurate fit. Do not make size choices only by the 'example breeds' nor size name alone, as these are to be used as a guide only. Dogs of the same breed will have different sizes based on weight, age, stature and so forth. To ensure a correct fit, please ensure that your dog is standing when you take their measurements. If your measurements border on the maximum end of a size, or are a combination of two sizes, it is best to purchase the larger of the two sizes.
You will need the following measurements to determine the correct size fit for your dog:
1) Neck Girth measure around your dog's neck where its collar would sit and ADD 2-5 cm for comfort dependent on size
2) Chest Girth measure around your dog's chest just behind its front legs and ADD 2-5cm for comfort dependent on size
3) Body Length measure your dog from the base of its neck to the base of its tail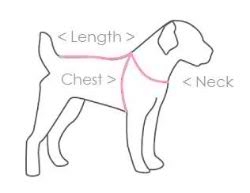 Each product will have a size chart or guide contained within the pictures and/or description. The measurements provided in the size chart are not the measurements of the garment but a range of dog's measurements each garment size will fit.
The chest and neck measurements are the most important to match up correctly to ensure the comfort of the dog (do not choose on length alone) and some compromise in length may be necessary to achieve the best fit
We are happy to assist with your size choice if you Contact Us with your dog's measurements